Snake Trouble
http://www.onemotion.com/flash/snake-game/
In this timed game, use your mouse to make the snake travel around the screen and eat mice. Don't run into yourself!
Falling Sands
http://chir.ag/stuff/sand/
"The falling sand game is an unusual sandbox style game. The idea is just to create paths for the falling grains of sand, salt, water and oil to pass through. There's no objective, except for having fun! Use the mouse to draw walls for the particles of sand, water, salt and oil to interact with."
Daily Sudoku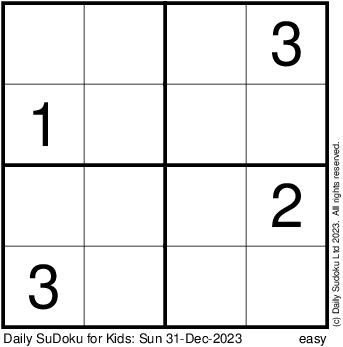 Visit
www.dailysudoku.com
for more puzzles, solutions, hints, books and other resources.
___________________________________
Can you arrange the pieces of this photo to make the picture look right?
How To Play
Single click (do not drag) the square horizontally or vertically adjacent to the empty square to move the pieces till you get this image.
___________________________________
Jigsaw Puzzle

Can you do this jigsaw puzzle? (Give the puzzle a minute to load - be patient until all the pieces are there!)
You're trying to make this picture.
How to play Jigsaw Puzzle?

Click and drag pieces to place them in the puzzle.

Correct pieces when placed together will join together.

Continue dragging pieces until the puzzle is finished.

The faster you finish the puzzle, the higher your score will be.
___________________________________
In this game there will be a number of groups of objects, you need follow the instructions to pick up the group with the most or least number of objects as quickly as possible.